November 26th, 2012
Now that Thanksgiving has passed, holiday party season is upon us. That means good company and rich foods.  Unfortunately the latter isn't so good for our waist lines. Here are a few ways to beat the bulge this time of year:
Plan: Eat a light meal before arriving: Having something in your stomach will make you less likely to indulge on something high-fat and/or high-sugar.
Get physical: Hit the gym (more): An extra trip to the gym will burn off some of those cookies.
Go easy on the booze: Limit alcohol consumption: Calories from beer and wine can add up really fast.
Bring a dish: If going to a potluck-style party, offer to bring a healthy, low-calories dish. That way you know at least one healthy option will be available!
It's OK to be picky: Be selective about what you eat. You can't go wrong with a choice from the fruit or veggie tray. Avoid over-indulging in the desserts.
Embrace the power of 'no.' Pick from the parties you truly want to attend, not just out of obligation.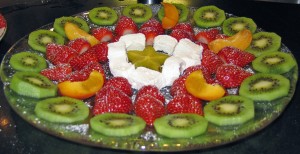 Here's to a happy, healthy holiday season from Waiter on the Way! Do you have any "stay twim" holiday tips?
By Stephen J. Bailey